On da Endz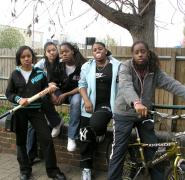 The second short drama film made by Justin Edgar and 104 films , as part of Stream's Youth Programme , with young people from CYPSEG Youth Club in East Greenwich.
The young people scripted and starred in the film. The story centres on the lives of 4 young gangs, the SE10's, Plastics, Dirty Mercs and Ghetto Gash. When a body is found, accusations start to fly and a hunt for the guilty party ensues.
The film was premiered at the Greenwich Peninsula Odeon and has won prizes at a number of film competitions.